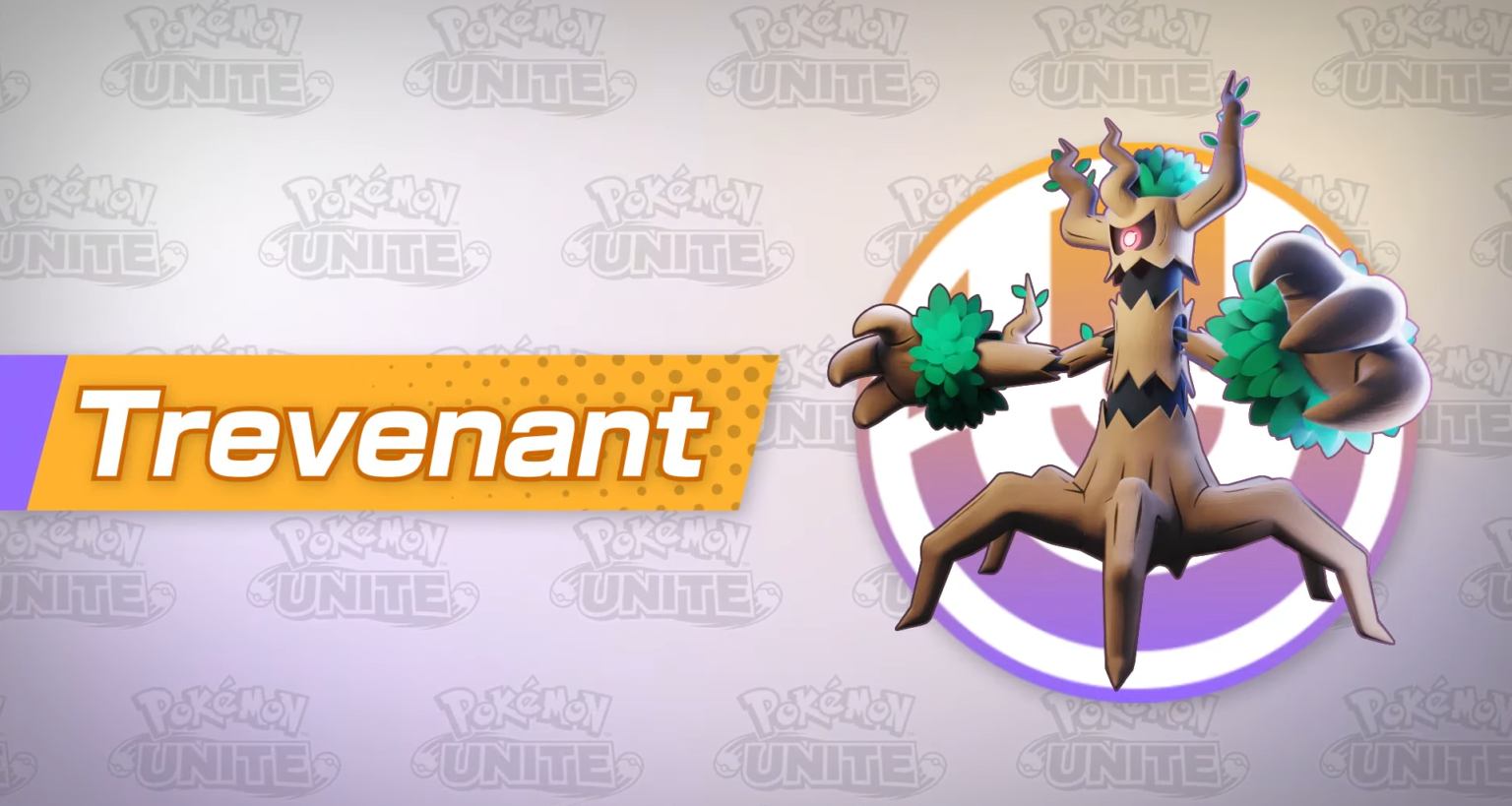 The Pokémon Company and TiMi Studio continue to release consistent monthly content updates for Pokémon UNITE, and another playable Pokémon is joining the battle soon.
Trevenant, a Grass/Ghost-type, is a new Defender class Pokémon that will focus on Melee-ranged attacks and some spooky effects that will impact enemies and teammates.
In the regular Pokémon games, Trevenant is known as a bulky Pokémon that uses its bulk to tank hits while dealing with enemies using status effects. Based on the trailer, we know that it will have Curse, Wood Hammer, and a move that looks like Horn Leech, which will give it a lot of utility for different builds and matchups.
Trevenant is going to be added to UNITE on Jan. 20, almost exactly one month after Dragonite was released, and will bring the roster to a total of 30 playable Pokémon. It will also be the first Defender added to the game since Blastoise and Mamoswine were released in September.
We still don't have details on the pricing for Trevenant's Unite License, but based on other Defenders, it will probably be in the 8,000 Aeos Coins or 460 Aeos Gems range.
Pokémon TCG is gearing up to further celebrate Pokémon Legends: Arceus. A new Collector's Bundle will be dropping in March starring the starter Pokémon from the upcoming Nintendo Switch title.
This upcoming release will include three promo cards, seven Pokémon TCG booster packs, a Pokémon coin, four sheets of stickers, a Pokémon notebook, and a code card for use on Pokémon TCG Live. The three promo cards in the set are Rowlet, Cyndaquil, and Oshawott. These cards are new, but they were first revealed as KFC promotional cards in Taiwan. As of right now, it seems this bundle is the only way to get these cards in the West.
You'll find the bundle in stores on March 25. The item will cost $29.99, which is a great price to help players get in on the action. The booster packs within the box can be from Brilliant Stars, Fusion Strike, Evolving Skies, or Battle Styles.
Brilliant Stars is the next set to launch in the West; it will arrive in February. Like this Collector's Bundle, Arceus is featured prominently in the set as one of the four new VSTAR-type cards. These cards are new to Pokémon TCG and boast their own powerful abilities.
YouTube superstar Logan Paul claims that the $3.5 million case of sealed first edition Pokémon TCG boxes he purchased in late 2021 is fake.
After an extensive investigative report by the YouTuber Rattle Pokémon, Logan set out to have the contents of the case verified in a video uploaded to his YouTube channel earlier today. In this video, the team quickly could tell that the boxes had been resealed. Inside each box appeared to be packs of the GI Joe trading card game that had been placed inside and sealed to masquerade as Pokémon cards.
The origins of this case were sketchy at best. Included in PokeBeach's report, the box initially went up for purchase on eBay in a listing by a seller with no feedback that was hesitant to let any potential buyers verify the case in person.
Click here to see more:
After a purchaser got ahold of the box, they had it verified by the Baseball Card Exchange. And while they may have a history of great work in the baseball trading card world, their experience with Pokémon was limited. The box was then sold down the line for an increased value until it landed in the hands of Logan Paul for $3.5 million.
Ultimately, as you'd expect, these fake boxes hold little to no value, so it's unlikely this will be the end of the story for Logan Paul and other buyers as they attempt to get answers and their money back.
>> Visit store: Reverlavie Store