New announcements and reveals from Star Wars at New York Comic Con! The Lucasfilm Publishing team brought book and comic news from across the Star Wars galaxy.
The event began with news from the High Republic as Phase 2 gets underway, and even included a small look into Phase 3, which will officially start in November 2023. In non-High Republic reveals, we got a sneak peek into a brand-new Inquisitor novel plus a Sana Starros comic miniseries.
Starting things off with the High Republic panel, we got an updated look at the cover to Claudia Gray's upcoming one-shot, Quest of the Jedi, from Dark Horse. The 30-page issue releases in February 2023.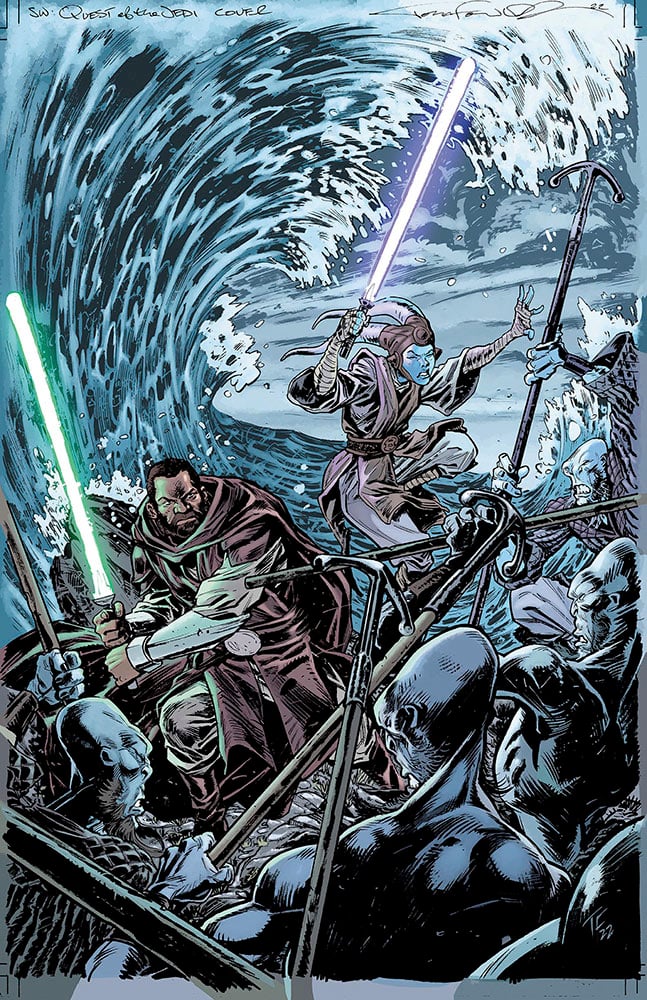 Also coming next year is the second batch of Phase 2 novels. April 2023 will see Cataclysm by Lydia Kang (From a Certain Point of View: The Empire Strikes Back) and Quest for Planet X by Tessa Gratton (Path of Deceit). May 2023 marks the conclusion to Phase 2 with Cavan Scott's Path of Vengeance. The panel gave a look at all three covers.
Cataclysm's cover features Axel Greylark, who will first appear in Convergence. Axel is the son of Chancellor Kyong Greylark. Quest for Planet X's cover reveals that the junior novel will return readers to Batuu, the home of Galaxy's Edge.
Path of Deceit introduced Marda Ro, who will return in Path of Vengeance. The cover sees the character gazing into some form of cave. Along the walls are creatures — which readers are quickly learning more about — called the Nameless. Also of note is the symbol on the ground, which so happens to be the symbol of the Nihil.
Up next from the panel were some new reveals. Coming in May 2023 is the next chapter in High Republic manga. Daniel José Older returns with Tomio Ogata to write The Edge of Balance: Precedent.
Next is our first look into (but not quite) Phase 3. As mentioned earlier, the final chapter in the High Republic publishing initiative will begin in November 2023 and is titled "Trials of the Jedi." Before that, though, we have an upcoming young adult anthology featuring every High Republic author involved with the novels and comics. The collection of stories will connect to every phase of the High Republic and is set for release in July 2023.