Sales of frozen turkey, stuffing and savoury bakery items rise in Great Britain as stocking up starts early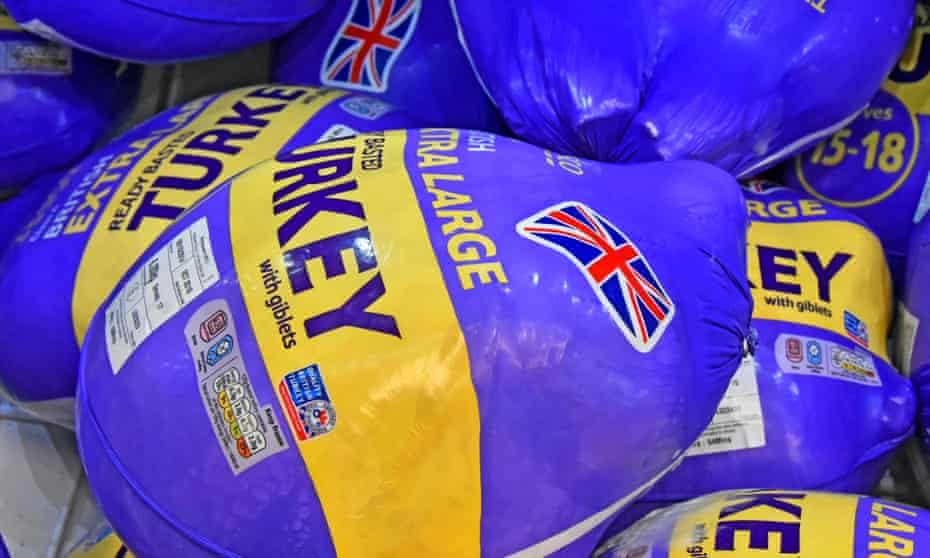 It may not be a white Christmas but it is already on ice as more shoppers fill their freezers with party food, turkey and other festive specialities amid fears of another disrupted end to the year.
Sales of frozen turkey have almost doubled, frozen stuffing is up by a fifth and sales of frozen part-baked bread rolls and other savoury bakery items were up by 9% in Great Britain in the four weeks to 3 October, according to analysts at Kantar.
At the frozen foods specialist Iceland, the figures are even more stark – frozen party food sales have tripled and frozen turkeys are up 400% as shoppers plan ahead.
Tesco's cardboard asparagus
Supermarkets using cardboard cutouts to hide gaps left by supply issues
Read more
Richard Walker, the boss of the Iceland chain, said its Christmas website had gone live a month earlier than last year because of customer demand.
However, he said business was steady: "We're not seeing crazed panic-buying.
Aldi and Tesco have also reported a surge in frozen turkey sales, with many families fearing they will miss out if they leave buying their Christmas meal centrepiece until the last minute. Waitrose said there was still demand for fresh turkeys and its pre-orders were up by well over a third on this time last year.
Concerns about the availability of seasonal goods drove about a quarter of shoppers to start their Christmas shopping in September, according to analysts at Mintel, the highest proportion ever tracked by the market research firm.
Eden Plummer, a consumer insight director at Kantar, said the rise in sales of frozen Christmas foods stood out against an overall fall in frozen sales last month and a general drop in the grocery market as shoppers enjoyed more freedom to dine out than last year when restrictions were in place in various parts of Great Britain.
"This year you can understand that some people want to make sure they have everything they need in advance to make sure they have the celebration they weren't able to have last year."
Plummer said that sales of Christmas puddings were up 76% and mince pies up 10% in the period, so there was a general shift towards stocking up on festive foods.
Nick Carroll at the market research firm Mintel said shoppers were turning to frozen and packaged foods as about a fifth said they had found difficulties in purchasing some products because of shortages on shelves.
British turkey producers have laid down a fifth fewer birds than last year, according to the British Poultry Council, because of concerns about finding workers to slaughter and process them. Meat processors have also warned about potential shortages of complex ready-made dishes such as pigs in blankets for the same reason.
There are also concerns about supplies of CO2 which is used in the slaughter of poultry, as high energy prices have hit production across Europe.
"There was an assumption that we would see some snap back to pre-pandemic habits in 2021. However, the news of fuel, product and staff shortages will have created some uncertainty for shoppers," Carroll said.
… as you're joining us today from Vietnam, we have a small favour to ask. Tens of millions have placed their trust in the Guardian's high-impact journalism since we started publishing 200 years ago, turning to us in moments of crisis, uncertainty, solidarity and hope. More than 1.5 million readers, from 180 countries, have recently taken the step to support us financially – keeping us open to all, and fiercely independent.
With no shareholders or billionaire owner, we can set our own agenda and provide trustworthy journalism that's free from commercial and political influence, offering a counterweight to the spread of misinformation. When it's never mattered more, we can investigate and challenge without fear or favour.
Unlike many others, Guardian journalism is available for everyone to read, regardless of what they can afford to pay. We do this because we believe in information equality. Greater numbers of people can keep track of global events, understand their impact on people and communities, and become inspired to take meaningful action.
We aim to offer readers a comprehensive, international perspective on critical events shaping our world – from the Black Lives Matter movement, to the new American administration, Brexit, and the world's slow emergence from a global pandemic. We are committed to upholding our reputation for urgent, powerful reporting on the climate emergency, and made the decision to reject advertising from fossil fuel companies, divest from the oil and gas industries, and set a course to achieve net zero emissions by 2030.
If there were ever a time to join us, it is now. Every contribution, however big or small, powers our journalism and sustains our future. Support the Guardian from as little as $1 – it only takes a minute. If you can, please consider supporting us with a regular amount each month. Thank you.