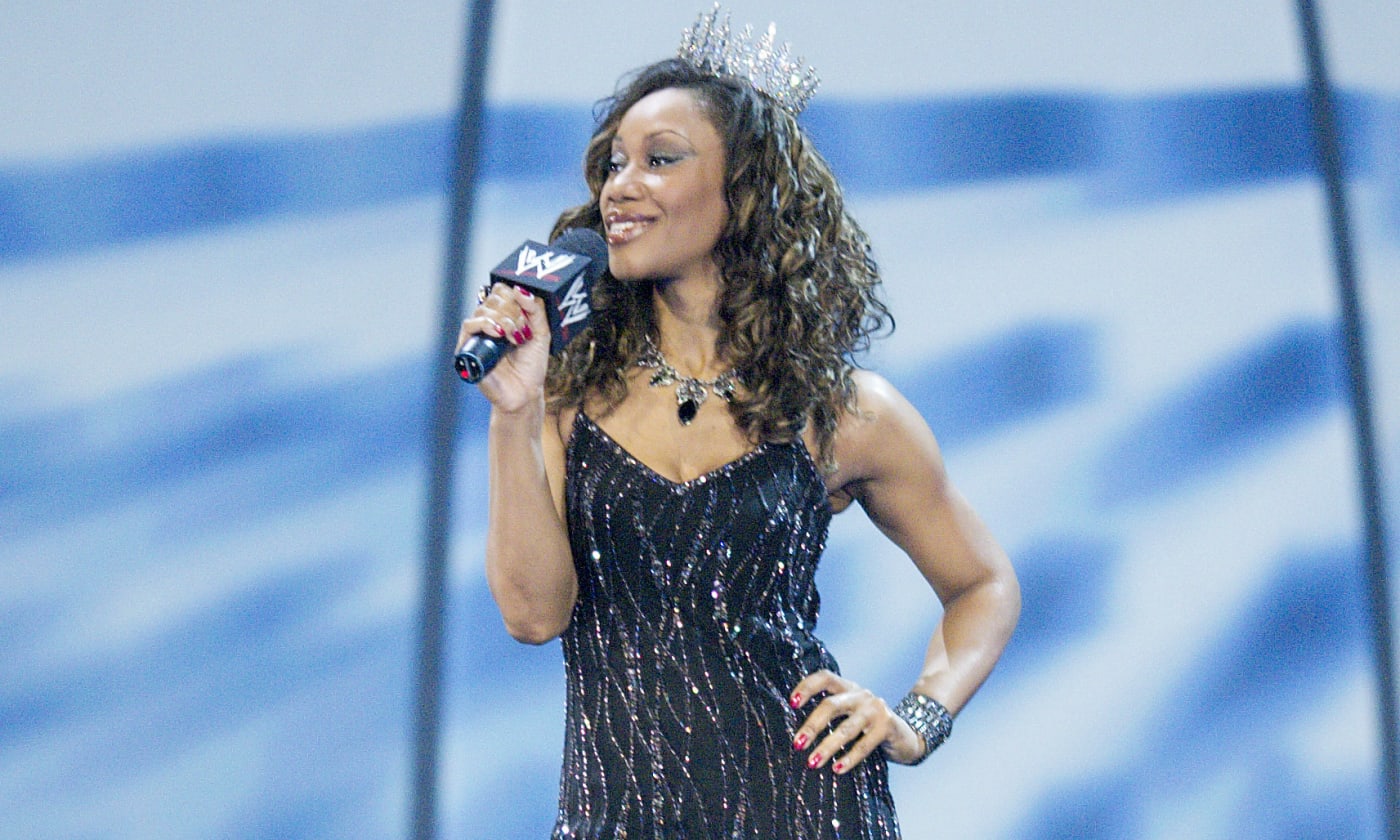 The newest inductee to the WWE Hall of Fame Class of 2022 is Sharmell.
A dancer, actress, entertainer, and businesswoman, Sharmell is best known to WWE fans as the valet and manager of two-time WWE Hall of Famer Booker T. The two Superstars are married in real life, and their partnership led to the most successful partnership run of Booker's career, which included winning the United States Championship, the 2006 King of the Ring tournament, and the World Heavyweight Championship. King Booker and Queen Sharmell pulled double duty as both villains and comic relief on WWE Smackdown. Complex Sports spoke exclusively to Sharmell after she received the news.
"I was so happy," said Sharmell. "I didn't even know what to say. It was an unexpected, great surprise—a welcome surprise."
The valedictorian of her high school class, Sharmell graduated from Spelman College with a dual degree in Mathematics and Biomedical Engineering. Founded in 1881, Spelman is a private, black liberal arts college for women. A black woman in the public eye, Sharmell is conscious of people's perceptions.
"I always feel a sense of responsibility, and I carry that with me everywhere," said Sharmell. "Who am I not to succeed after everything my ancestors have been through? I'm always trying to carry myself as a person who is reputable."
Why Is New Balance So Popular Right Now? | The Complex Sneakers Podcast
Sharmell became Miss Black America in college, and after graduate, pursued a career in professional dance. Her biggest break was as a backup dancer to James Brown, which she performed as for three-and-a-half years.
"I was able to literally tour the world when I traveled with James Brown," said Sharmell. "That's an education in and of itself."
It was on a cross-country tour bus, watching TV, that Sharmell learned about the Nitro Girls, the WCW dance team that entertained the live crowds. She tried out for the group through Nitro Girl Tygress and got the spot over well-known professional dancers. After WWE bought WCW in 2001, Sharmell signed with WWE to become a professional wrestler. But while training in Ohio Valley Wrestling (WWE's developmental territory), Sharmell tore her ACL, lateral meniscus, and joint capsule.
"It took me quite a while to recover from that," said Sharmell. "But in the meantime, I started doing backstage interviewing at WWE. I loved to be on the microphone."
Sharmell attributes her promo skills to OVW trainer and booker Jim Cornette. The manager and mouthpiece for Mid-South tag team legends The Midnight Express, Cornette made Sharmell the valet for the Suicide Blondes.
See more at: Boomidiadeal