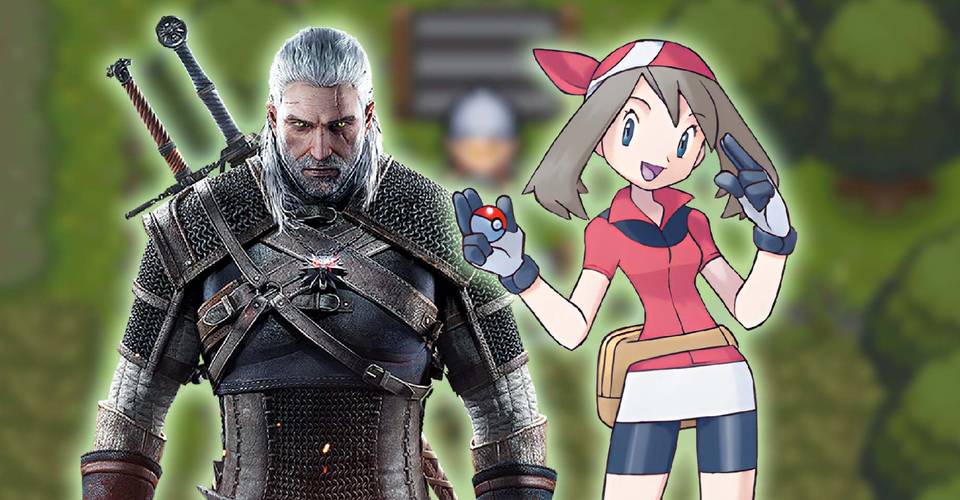 A new piece of mash-up fan art combines the worlds of Nintendo's Pokémon and Andrzej Sapkowski's The Witcher in pixel-art cuteness. The picture, which appears to homage the Game Boy Advance era of Pokémon games, sees Geralt and Ciri about to encounter a leshy in the tall grass.
While this appears to be the first piece of mash-up fan art uploaded by the artist, their Reddit account features other works of 8-bit art, like one featuring Bulbasaur transformed into a fire-type Pokémon and another depicting a theoretical ghost-type evolution for Eevee.
Mash-up art has become something of a trend among fan artists lately. One recent illustration merges the whimsical worlds of Studio Ghibli and Nickelodeon cartoons, featuring CatDog transformed into the Catbus from My Neighbor Totoro and Rugrats' Tommy Pickles fused with Boh from Spirited Away. The image was created to celebrate beloved director Hayao Miyazaki's 81st birthday.
Another piece of recent Studio Ghibli mash-up fan art is significantly less whimsical and much more nightmarish. It merges My Neighbor Totoro with Konami's Silent Hill 3 — in the image, the titular woodland spirit features sharp fangs, long claws, shredded ears, glowing red eyes and Pyramid Head's triangular helmet.
The Witcher and Pokémon have each seen new developments in terms of official content as well. The second season of Netflix's live-action The Witcher adaptation premiered in December 2021 to the delight of fantasy fans. The series amassed 2.2 billion viewership minutes over its first week, making it one of the streaming service's most-watched shows of all time. The hype for the new season was so immense, it rocketed Sapkowski's novels back to the top of the New York Times bestsellers list.
In terms of the Pokémon franchise, a new game, Pokémon Legends: Arceus, is scheduled to launch exclusively for the Nintendo Switch on Jan. 28. The latest trailer delves into the small details gamers will need to learn in order to successfully capture Pokémon and become qualified trainers. Beyond collecting and battling different Pokémon, players will be able to harvest various raw materials and craft items. They will also be able to customize their avatars, including changing outfits and hairstyles at shops found in Jubilife Village, the game's central hub.
Click here to see more:
Seasons 1 and 2 of The Witcher and various entries in the Pokémon franchise, like Pokémon: Indigo League and Pokémon the Movie: Secrets of the Jungle, are available to stream on Netflix.
>> Visit store: Reverlavie Store
>> Pokémon/Witcher Fan Mashup Turns Geralt and Ciri Into Trainers