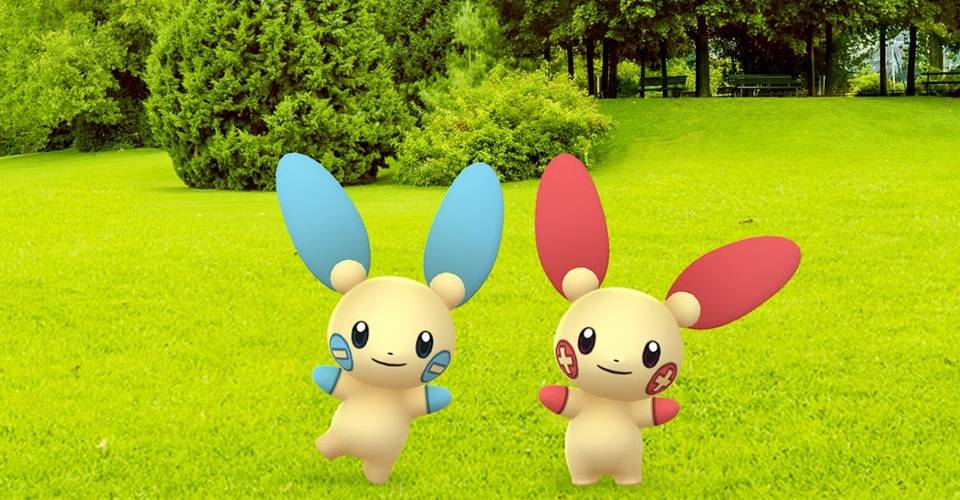 Minun is the next pocket monster to receive a Pokémon GO Spotlight Hour, with the fan-favorite Electric-type Generation 3 character's event coming this January. The Pokémon GO 2022 Spotlight Hour follows on from Plusle's Spotlight Hour, which took place on January 18, running from 6 pm to 7 pm local time.
The Pokémon GO Spotlight Hour is like a mini version of a Community Day, in that they work similarly, but on a smaller scale. For an hour, a select Pokémon will spawn in the wild more often than usual, giving Trainers a chance to add them to their collection. Players can obtain buffs to Candy and Stardust just like Community Days, but there isn't an increased Shiny encounter rate during that hour. There are also more Spotlight Hours than Pokémon GO Community Days, and together both events can provide ample opportunity to catch specific Pokémon.
Minun's Pokémon GO Spotlight Hour is set to begin later this January, taking place on Jan 25 from 6pm to 7pm local time (via Dexerto). The Spotlight Bonus will be Double Transfer Candy, and as Shiny Minun is already available in Pokémon GO, the variant will also be available through the event. Shiny Minun won't have an increased spawn rate, but lucky Trainers might still be able to encounter one. Minun's Spotlight will be the final Spotlight Hour of January 2022.
Along with the Minun Spotlight Hour, Pokémon GO will also soon have another Community Day featuring Bulbasaur.
The Generation One starter Pokémon has been in previous Community Day events before, but as a fan-favorite character, its return is highly-anticipated. Players will have a higher chance at obtaining a Shiny Bulbasaur, and Bulbasaur caught during the event will be able to learn Frenzy Plant. The first Community Day of the month, Spheal, happened on January 16.
Click here to see more:
Plusle and Minun are two very similar-looking Pokémon, but Plusle's Shiny variant is hard to distinguish from its original versions due to the colorations being similar. Luckily, there is still the sparkle effect to show that it is a Shiny, but it's still hard to tell the difference when comparing them in the game menu. Meanwhile, Shiny Minun has a much brighter green color compared to its normal version. Shiny Plusle is up there with Shiny Regice as one of the worst Shiny Pokémon to hunt for this reason. While the Shiny odds won't be boosted for the Minun Spotlight Hour, there is still a chance for players to obtain it to pair it with Plusle.
>> Visit store: Reverlavie Store
>> Pokémon GO's Minun Available in January 2022 Spotlight Hour