Warner Bros.'s Gotham series has excelled at portraying the villains associated with Batman's name at a time when Batman was just a young boy who had just lost his parents. Among them, one of the most impressive and successful characters is Oswald Cobblepot (Robin Lord Taylor) or The Penguin.
In fact, perhaps this character is performed so well that sometimes viewers want to side with him even though they know he is the bad guy. It is clear from the very first moments that the audience gets to see his worst features.
For example, killing people like crap, not using tricks to serve their own malice, often betraying their master, and even being proud of their own spying ability. Even when he came to power, The Penguin was not a good boss not only because of his temperament, but also because he only thought of himself, and treated his subordinates badly.
But how can such a The Penguin win the hearts of the audience? Even considered the real star of the series?
Gotham Villains: The Penguin
1. Tactics and stubborn will
Tactics, acumen to see the situation, the ability to manipulate stakeholders to achieve goals
When he saw that the head of Gotham's underworld, Carmine Falcone (John Doman) was old and his owner was Fish Mooney (Jada Pinkett Smith), her ambition was burning, Oswald predicted that sooner or later Fish would react back to Falcone.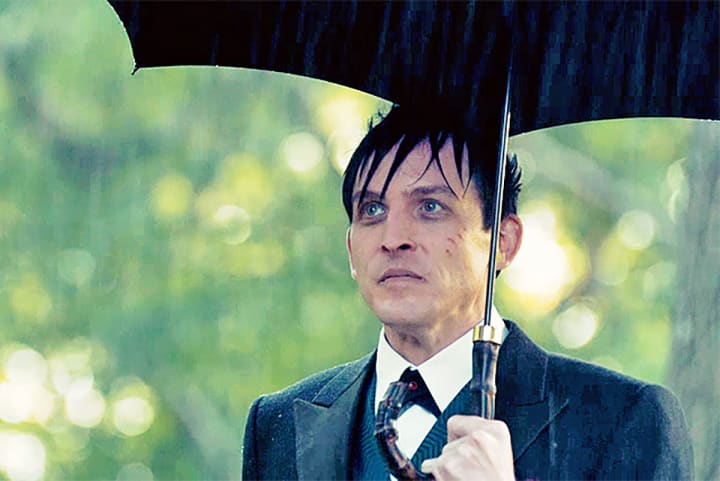 Based on this information, The Penguin devised a sophisticated plan so that the war between the factions broke out earlier and then took advantage of the opportunity to profit and seize power. So, from a person in charge of holding an umbrella and squeezing Fish Mooney's feet, The Penguin has gradually eliminated all obstacles on the way to winning the throne and becoming the king of Gotham at the end of season 1.
Oswald has the ability to flexibly improvise in unexpected situations. When being assigned by James Gordon (Ben McKenzie) to the person who wants to kill him, Edward Nygma (Cory Michael Smith) or The Riddler, Oswald did not anticipate that Barbara Kean's gang (Erin Richards) would come to disrupt. However, he quickly took advantage of the opportunity and lured Ed into it, thereby completing the goal of revenge.
The Penguin has more patience than humans. This is evident in how he avenges his mother's killer, Tabitha Galavan (Jessica Lucas). Though not once did he have a chance to kill her, he didn't. He made everyone believe that he didn't care about it anymore. Then he took advantage of when the love between Tabitha and her lover became deep, he killed her lover so that she could endure the feeling of losing a loved one as he did.
Admirable willpower
No matter how adversity falls, The Penguin will rise again and take power again. In season 1, from an informant who had to hide from the pursuit of both the police and the gangsters, Oswald successfully overthrew the biggest underground forces and took over.
In season 2, due to being caught by the enemy by kidnapping his mother, Oswald lost everything and was sent to the Arkham mental institution. But soon after his release, he won the hearts of the majority of the people of Gotham and rose to the position of mayor of the city.
In season 3, due to being betrayed by The Riddler, Oswald's political career was completely ruined. However, by inviting mutants genetically modified by Hugo Strange (BD Wong), plus promoting the Pax Penguina law, Oswald became the true ruler of Gotham.
In season 4, due to being deceived by Sofia Falcone (Crystal Reed), he lost his empire to her. However, after a series of disasters caused by Ra's al Ghul (Alexander Siddig) and Jeremiah Valeska (Cameron Monaghan), the whole of Gotham City fell into chaos, creating an opportunity for The Penguin to capture a key area for development. develop his own army and once again become the biggest force in Gotham.
Regardless of Oswald's dignity, this indomitable spirit of his is still worthy of recognition. Worth mentioning here, that the talent of Oswald or The Penguin doesn't just stop at the plot. He also proved his management ability when running Gotham City.
Like when the Tetch virus spread, the people of Gotham surrendered to their dark side, causing the whole city to become chaotic and out of control. Faced with that situation, The Penguin passed the incumbent mayor to promote the Pax Penguina Act. Although Oswald took advantage of this to profit, it actually helped reduce the crime rate to a record low and restore order to the city.
2. Circumstances that easily make viewers sympathize
Oswald's path to the top was associated with a series of treason. However, we can still sympathize with him because those times of betrayal have a good reason.
The first is Fish Mooney, although he considers Oswald as a son, in fact, still treats him with disdain and harsh treatment. Worth mentioning, that when Oswald betrayed and became his sworn enemy, Fish paid respect to him. Even considering turning Oswald into The Penguin is the proudest thing in life.
And boss Maroni (David Zayas), from the beginning Oswald did not consider him as his boss. Even before Maroni knew Oswald was Falcone's insider, he had already beaten Oswald so of course, Oswald couldn't be expected to give him allegiance.
Going to Falcone, although he did not suspect or treat Oswald badly, that was because he thought that a freak like him would not dare to imagine being a boss. Furthermore, due to his advanced age, Falcone often contemplated retirement. If Oswald waited until then, there would be no one to sponsor him.
Of course, the main reason for these treasons was still Oswald's malice. However, this ambition is not without reason. It had been conceived during his scornful and rejected adulthood.
The Penguin is infatuated with power because he is afraid of feeling powerless. Deeper than that, Oswald yearns to be loved and recognized. Oswald could have become a good person, but unfortunately every time Oswald seemed to see hope, that light was quickly extinguished. Oswald's mother was implicated in him and died. The man Oswald loved, Edward, turned his face into a foe even though he did have a good reason. Sofia Falcone says she wants to be friends with him, but in reality, is just trying to destroy him.
Although fortunate to find a sincere friend like the boy Martin (Christopher Convery), he also forced him to leave him to keep him safe. In the final season, The Penguin chooses to stay and protect a Gotham about to fall to Bane's (Shane West) army. After his victory, he expected to earn the appreciation and respect of the whole city, but he was soon thrown into the Blackgate Penitentiary and buried there for 10 years of his life.
Undeniably, considering the crimes committed by The Penguin, such punishment is too light. However, we still feel sorry for Oswald because it's hard not to find a connection to what he's going through.
>>> READ MORE: DEVIANTS ETERNALS: COMPARISON BETWEEN COMICS AND MOVIES
3. The Penguin: Lovely qualities
As a villain, The Penguin has its own rules and limits. Looking through the countless other villains' plans to destroy Gotham throughout the film, Oswald really puts the safety of Gotham City in his heart.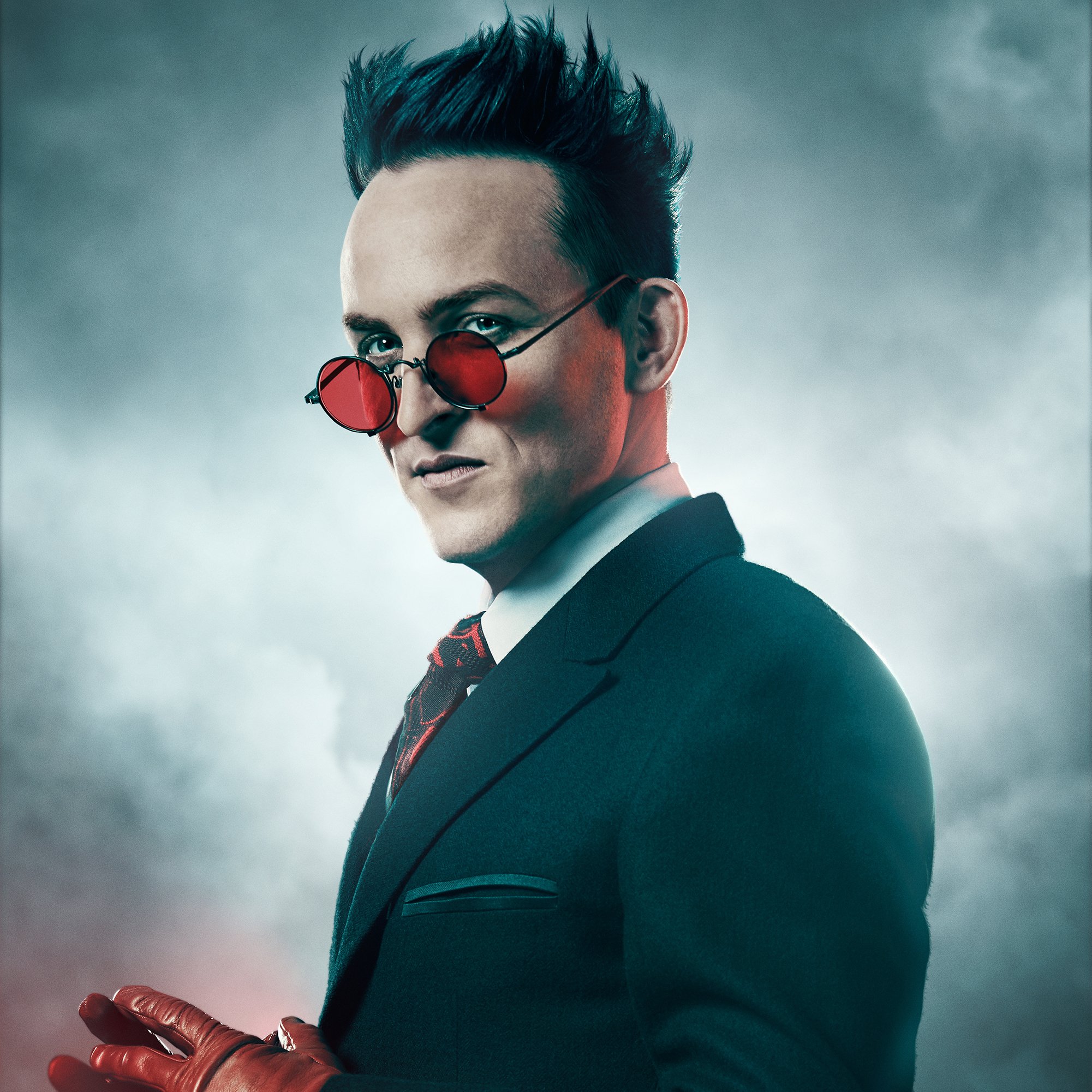 I understand Oswald's intentions not purely for his own sake, but because he wants to protect Gotham in his own way. Oswald's concern is not only for Gotham in general but also for individuals who are not sociable like him.
The fact that Oswald wanted to be friends with James Gordon in the early seasons was likely due in part to James being isolated in the GCPD itself. Perhaps because of empathy, Oswald always took the initiative to give them advice and help. Though his way of doing things can't be considered okay and not worthy of imitation.
Besides, Oswald is extremely loyal to those he loves. To protect them, he can sacrifice everything such as freedom, dignity, power, and even life. When he still considered James Gordon as a friend, although he was always treated coldly by James, Oswald still accepted to help James unconditionally, once took the blame for James and was sent to Arkham mental institution.
When Oswald's mother was captured by Theo Galavan to force him to carry out his assassination, Oswald was willing to sacrifice his life just to let Theo spare his mother. When threatened by Barbara to question The Riddler's whereabouts, Oswald would rather die than sell Riddler out even though he had sold out and betrayed Oswald before. Later, when Sofia Falcone held Martin hostage to take away Oswald's influence, he also accepted to lock himself in Arkham to keep Martin safe.
Although it was possible to safely escape a Gotham about to fall with all its possessions. But The Penguin still chose to follow his heart and stay with the police force in a completely unequal battle with Bane's army. In the same battle, Oswald did not hesitate to barricade The Riddler with a grenade, resulting in permanent damage to his right eye.
It can be seen that a ruthless person like The Penguin is actually a heavier person than anyone. The important thing is that no matter how many times he has been betrayed, Oswald still tends to put his trust in those around him. Sadly, that belief often turned out badly for him. In the final episodes of the series, Oswald believes that staying in the fight for Gotham will make James Gordon see himself differently. But not long after he was sent to prison by James for more than 10 years.
Although this is considered a fatal weakness of The Penguin or Oswald, it is also this point that helps the audience sympathize with him more.
>>> RELATED: Batman Villain List: Top 10 Best Villains