Any budding Tom Brady's in Tauranga might finally be in luck with the launch of the city's new American Football team.
The Tauranga City Tridents started training earlier this month and now have sights on a men's, women's and junior team going forward with a view to full-contact American football right here in the Bay of Plenty.
The driving force, says president Alex Hartwell, was Sam Penny, a 17-year-old student from Tauranga Boys' College who travelled to Hamilton to play the sport last summer.
He pushed for an American football open day earlier this month, with the help of the Hamilton Hawks, which gave interested participants a chance to give flag football a crack.
Alex says he was taken aback when around 35 people showed up.
"That blew my mind," he says.
"Given it was mostly through word of mouth and a little bit of social media that was great.
"It sort of stemmed from that really."
With the interest clearly there, the Tridents have pushed forward.
"American football has probably never been as popular in New Zealand then it is right now," says Alex.
"But the framework outside Auckland is not that established. So we think now is really the best time to get something off the ground.
"Some of the talent I saw at that open day I was blown away by the skillset of some of the people there."
The goal for this season is to send a senior and junior side to the New Zealand Flag Nationals early next year.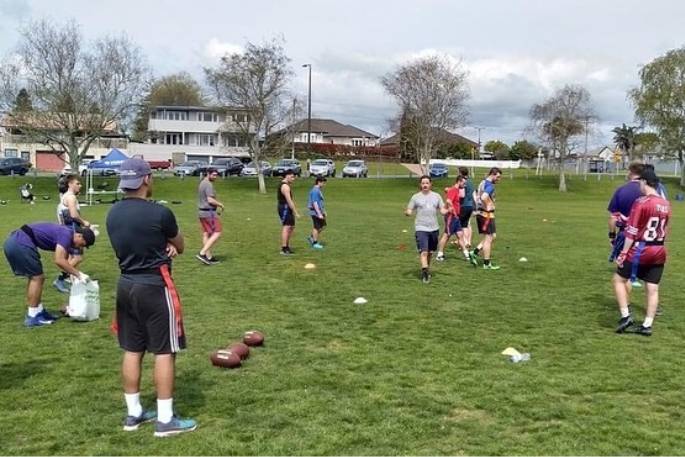 The club have been provisionally accepted into the New Zealand American Football Federation, have started weekly training and are now looking to continue growing by forming a player base and coaching structure as well as sponsorship.
"It has all moved quite quickly," says Alex.
"But we have had some really good interaction with people who are interested in the game."
Alex, whose brother Sean is also involved as club treasurer, played one season of American football at university in Wellington and is delighted to be bringing the sport to Tauranga.
He believes there are transferrable skills from plenty of New Zealand's current main sports such as basketball, volleyball, soccer and, of course, rugby.
As Alex says, if you are keen to learn and willing to give it a go, pretty much anyone can find a position that suits them on the gridiron and that inclusive nature adds to the appeal.
Alex says that one of the cornerstone beliefs of the club going forward is to break down the barriers to participation in sport.
They aim to keep membership fees as low as possible and to have an all-inclusive policy for those who want to come along and find a place in the club.
"If we were turning away people from this port who had the ability to make a difference that would not be good," says Alex.
"We want to keep barriers as low as possible."
The club are currently training weekly at Tauranga Boys' College at 5.30pm on Tuesdays, although that is subject to change.
To keep track of Tauranga Tridents American Football Club's progress and training status visit their Facebook page here.